World Psoriasis Day
Uniting for Action
World Psoriasis Day (WPD) is the annual day dedicated to people living with psoriatic disease. Every October 29th, we join forces to:
• Make the world aware of psoriatic disease
• Spread information about psoriatic disease, refuting common misconceptions and increasing knowledge among people living with the condition
• Call on health ministers, governments, and decision-makers to improve access to treatment
• Join forces with people living with psoriatic disease for advocacy and knowledge exchange World Psoriasis Day is a powerful opportunity to mobilize advocacy for a shared theme and goal. On October 29th IFPA unites the global community to unleash loud action and achieve targeted breakthroughs, together.


During 2021´s UNITED campaign, we learned how important it is to stand UNITED and protect the most vulnerable in our community. We are a uniting force, fighting for everyone with psoriatic disease. Together we are so much stronger.
In recent years, the global pandemic, political conflict, and migration have isolated many. Our global mental health has suffered because of it. Communal stress and loneliness are felt even stronger by people with psoriatic disease who worry about whether they will be able to continue treatment in these times of uncertainty.
For World Psoriasis Day 2022 we are uniting to draw attention to mental health and mental well-being.
We are proud to announce the theme of this year´s World psoriasis Day which is mental health. Good mental health and mental well-being are increasingly being recognized as essential parts of health. Depression and anxiety are the most common mental disorders worldwide. Both conditions profoundly impact daily life, relationships, and social interactions.
Research has shown that living with psoriatic disease takes a heavy toll on a person´s mental health and emotional well-being. The non-curable, chronic nature of psoriatic disease, the systemic inflammation occurring in the body, and the fact that the disease is visible on the skin renders people living with psoriatic disease at risk of developing depression and anxiety.
A quarter of people living with psoriatic disease experience depression. And as for anxiety, the number jumps to a staggering 48%. The good news is that timely and proper treatment of both psoriatic disease and depression or anxiety can effectively improve the conditions.
We are united and demand action and together we can make a change for the mental health of people living with psoriatic disease. That´s why we chose the important topic of mental health for World Psoriasis Day 2022.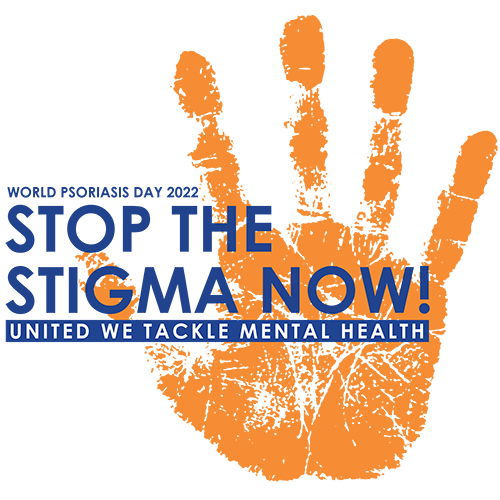 Psoriasis is a common skin disease causing patches of thick red skin and silvery scales. This skin condition affects patients physically and mentally.

On this episode, we'll learn more about this skin condition, how to deal with stigma, and the best treatments for it on Med Talk Health Talk.

Mr. & Ms. PsorPhil 2022
Registration for our search for Mr. & Ms. PsorPhil 2022 is now open!!!
This is for all psoriasis patients (no gender discrimination), members of their local PsorPhil Chapter, members of the PsorPhil Online community, and participants aged 17 and below provided he/she has parental consent. (waivers can be uploaded
here
).
Registration starts now until October 15, 2022. (email your entry to
mrandmspsorphil@gmail.com
).
PsorArt 2022 Painting Workshop
PsorArt 2022 Painting Workshop
A benefit project for PsorPhil's Patient Rescue Program
Date: Oct 16, 2022
Time: 8AM to 3PM
Venue: Hardin ng mga Bulaklak, Quezon Memorial Circle, Quezon City, Philippines
*Limited slots
Join the World Psoriasis Day!
Did you know?
Source: IFPA | https://ifpa-pso.com/